2023 Season Review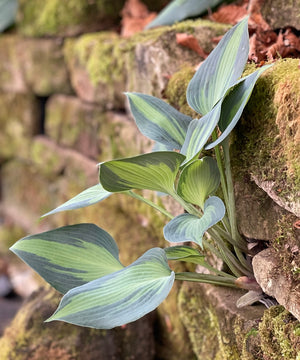 As another growing season comes to an end, we look back on what has been another very successful year. From the major flower shows, work at the nursery and new partnerships it has been a busy season.  As usual, we'd like to thank all of our customers new and existing for all of your orders, kind comments and enthusiasm.
The year started with an exciting addition at the nursery. Summer the Golden Retriever puppy joined the team and has settled in very well to nursery life. She helps keep everyone smiling through the long days and she's always there for a cuddle when you need it! 
The season really started to kick off by April and we were delighted to announce a new partnership with the RHS to supply quality British hostas to their Wisley Garden Centre. We have supplied the RHS gardens with hostas on multiple occasions before this but this was the first time our plants would be sold in the plant centre. It a real honour to be selected by the RHS to be one of their suppliers and we see this a complement to the quality of our plants as well as our environmental practices.
April ended with Best in Show at our first show of the season, Herts Garden Show in Knebworth. This was our first time at the show since 2018 and it was great to return with the top award!
May started with the announcement of our partnership with The Princes' Foundation to offer The Highgrove Selection on our website. This was a selection of five varieties that can be found in His Majesty the Kings' national collection of large lead and giant hostas at Highgrove House, 30% of each plant sale (ex VAT) is donated to The Princes' Foundation. This comes after years of working with the garden team at Highgrove helping them record, maintain and expand the collection. You can read more about our work with Highgrove here.
May is not only our busiest month on the website, it is also when we head to central London for the world renowned RHS Chelsea Flower Show. We had big things planned for 2023, with the exhibit being our biggest and most complex yet. We were delighted to be awarded our third successive Gold Medal and also had the honour of a visit from His Majesty King Charles III. You can read more about our Chelsea 2023 experience
here
.
After Chelsea in June came BBC Gardeners World Live, one of the highlights of the horticultural calendar. Again, we were over the moon to be awarded the top award of Platinum. This was followed by RHS Tatton Park in July where we received a Gold Medal for our display. July is also a busy month at the nursery for propagation so we were pleased after Tatton to be able to catch our breath for most of August.
The only show in August was at the beautiful RHS Garden Rosemoor in Devon. This was our fifth time exhibiting at Rosemoor and we were so surprise to be awarded Best in Show for the fourth time. 
Our final show of the season was our local show at RHS Garden Wisley. This week long event is a great way to catch up with our local customers and give the hostas one last hurrah before their Winter dormancy. The show went well despite the heatwave of 30 degrees plus every day and we were very pleased to be award the top award of 5 Flowers. A good way to end the year! 
Leave a comment