Fragrant Hostas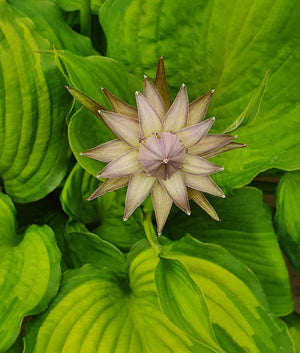 Hostas are one of the best perennial foliage plants you can grow in the UK, however, many people grow them for their flowers. One of the additional perks of some hosta flowers is their fragrance. A carefully placed fragrant hosta can be as good as any rose and a wonderfully addition to the garden.
Here are just a few of our favourite fragrant varieties. If you would like to browse all of the fragrant varieties we grow please click here.
Hosta 'So Sweet'
A brilliant, fast growing medium variety with green leaves and a creamy yellow margin. This variety will grow well in both a pot or the ground and is an excellent choice if you're new to hostas. 
More information here.
Hosta 'Cathedral Windows'
 A beautiful, large variety with round green leaves with a yellow streak through the centre. We love the varieties in this group including 'Guacamole', 'Avocado', 'Stained Glass', 'Enchiladas' and 'Emerald Charger' all of which are fragrant.
More information here.
Hosta 'Essence of Sunset'
A show stopping variety with fantastic green leaves and a irregular yellow margin. The leaves have excellent substance, giving this varieties good slug resistance.
Hosta 'Ambrosia'
A newer variety that we have really grown to love over the last couple of years. This one is a sport of 'Guacamole' with a lovely powdery light green leaf and a stunning blue margin.
More information here.
Hosta 'Sienna Susan'
Maybe we're a little bias on this one, but it's one of our own introductions! 'Sienna Susan' is our very first introduction from the nursery and we're so pleased with it. A variegated sport of 'Sweet Susan'. This variety will grow at a fast rate and have green leaves and a lovely white margin.
More information here.
Leave a comment