Growing Hostas In Pots and Containers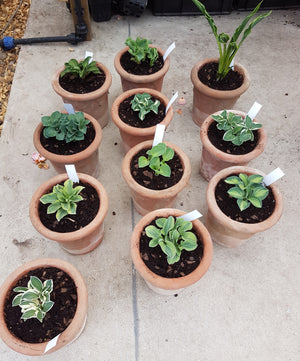 Hostas are really enjoyable and addictive to grow. With so many different varieties now to choose from in all shapes, sizes and colours collecting has become a popular pastime. Growing in pots is an excellent way to display your prized hostas; from miniatures to giants all hostas can be grown in pots given the correct care.
Select a pot that is size appropriate for the variety you wish to pot. We have a 'Sum and Substance' on the nursery that is over a meter across and has been in a large terracotta pot for 20 years and it is still very happy (it is a very big pot).
When preparing to plant your hostas in a container, begin by checking that there is sufficient drainage. Most terracotta pots come with plenty of drainage holes but if you are planting in a makeshift container holes may need to be drilled. Fill the bottom of the pot with gravel, broken pot, polystyrene or Crushed Seashells to ensure the drainage holes are not blocked with soil and roots. On top of the gravel, cut a piece of taram sheet or woven membrane and cover the bottom of the pot. This membrane with allow water to pass through, but will stop the soil and roots from clogging near the base of the pot.
Now your pot is ready for planting, use a mix of peat free John Innes no.3 and peat free general purpose compost, this allows adequate water retention. Mix some Slow Release Feed into your compost mix. Fill the bottom of the pot with your soil, keep in mind the size of the root system of the plant you have chosen. Remove your hosta from the plastic pot it is in and run your fingers through the roots to free them (if you have ordered from our online shop this will already be done for you). Place your hosta in the pot and begin filling around the sides. Once full press the soil down otherwise it will sink as soon as it has been watered, then top up if needed. 
Now your hosta is happily in it's new pot, water it in thoroughly. Keep an eye on watering when you are growing in pots, especially in the first year of planting. It is very important that they are damp, but not waterlogged. Miniature hostas especially can rot if the soil around them is waterlogged. Once established in a pot, feed your hostas to keep them happy. High nitrogen feeds for the leaves and high potash feeds for the flowers. 
4 Responses
Leave a comment