Hosta Companion Plants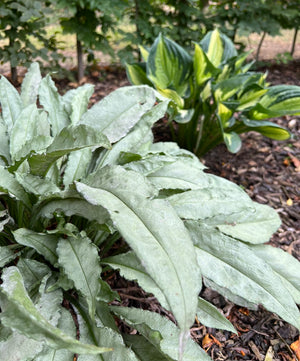 Hostas are a fantastically diverse and interesting genus, but as much as we would want every garden to be filled with them and nothing else, we do have some favourites when it comes to companion planting.
Ferns
When it comes to companions for hostas, you can't go far wrong with a mixture of beautiful ferns. Ferns and hostas like very similar conditions, making them ideal to be planted together. With an array of different foliage shapes, sizes and colours in both genera, there are always varieties that pair very well together.
If you're looking for ferns to plant with your hostas, why not try our friends at Alchemy Ferns.
Epimediums
A very reliable and easy to grow plant, epimediums are ideal for planting in dry shade. If you have an area near a tree for example, hostas will do better away from the roots of the tree and epimediums can be planted nearer to fill the gaps and avoid you having to plant your hostas in a position they won't like.
Brunnera 
This beautiful perennial is extremely reliable and pairs well with many hostas, especially blue varieties. We love plant Brunnera 'Jack Frost' with Hosta 'June, they just look made for each other (see picture)
Heucheras
Heucheras are another foliage plant that can add some texture variation and colour in with your hostas. Unlike hostas, heucheras come in colours such as purple and red, which allows you to add some bright colours with your hostas. Planting yellows and reds with a yellow hosta that has red stems like 'Fire Island' would be a real explosion of colour.
Leave a comment