Hosta History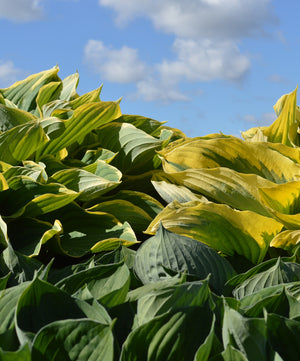 The Beginning 
With thousands of varieties now available on the market it is hard to believe that hostas started as just a handful of varieties. In recent times more weird and wonderful varieties have been introduced to the market. Some of the most notably by growers in the United States, Netherlands, Belgium and the United Kingdom, but where did it all start? Despite the western introductions from the States and Europe, hostas originated from Asia. Hostas actually grow wild in Japan, China and Korea. In the 18th century the first hostas came to Europe from China as seeds and were first being grown in Paris and London. 
Several years later they were officially named Hostas after Nicholas Thomas Host who was an Austrian botanist. Hostas have gone by other names such as Hemerocallis plantaginea and Funkia, the latter of which is still a commonly used name in Europe although not generally considered an official name.
At the time they were first introduced there were very few varieties available, especially in Europe with around 40 known at the time. This number is thought to be around 10,000 now and grows every year with new introductions. You can find the newest introductions we have to offer on our New Introductions page.
    (Hosta sieboldiana var. 'Elegans', one of the earliest hosta varieties)
US influence
Hosta variety numbers started to grow dramatically in the 60s when U.S hosta lovers began finding new sports and breeding new varieties through cross pollinating seeds. From the 60s to date the US has produced some of the best varieties there are. Some of our favourite American introductions include 'Raspberry Sundae', 'Patriot' and more recently 'First Blush'. There are still many beautiful varieties being introduced by US growers.
In the United States hostas are the number 1 perennials and for that reason there are many nurseries supplying hundreds of different varieties and introducing many of their own.
Hosta 'Raspberry Sundae'
Modern Hosta History
The introduction of new varieties in modern times has certainly not slowed, quite the opposite in fact. Today the varieties introduce are getting even more exciting and interesting. There are new sports and hybrids of varieties that are still considered relatively new themselves which is very exciting for growers and enthusiasts. 
Some of the most interesting new varieties in the last few years include 'Amalia', 'Let's Twist Again' and 'Mini Skirt'. There are still many varieties coming from the U.S and a lot from Europe. In recent years the UK has fallen behind when it comes to new releases. We are actively looking to discover and release as many new varieties as we can. We have already release two ('Sienna Susan' and 'A Dash of Lemon') and have more in production. 
The use of modern growing techniques can be vital when it comes to discovering new varieties. Tissue culture propagation has been around for some years now but has led to the introduction of some of the best varieties such as 'Dinner Jacket' and 'June'. As tissue culture is on a much bigger scale the chances of having a new variety are much higher. 
Leave a comment