Red Stem Hostas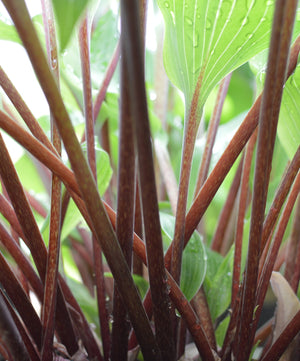 There are many exceptional qualities to hostas, but none so striking as red stems (petioles). For us at the nursery this is one of the most attractive and interesting features of some varieties. Red stems have become a more commonly sought out feature by plant breeders and collectors, with more varieties becoming available every year.
It is so important when growing red stem varieties that thought is taken as to where to plant them. Simply planting them amongst other plants on a flower bed or border can be such a waste. It is important to raise them up so that you display such a stunning attribute. Planting on the edge of a raised bed or in a pot is usually the best way to show off the red stems. There are many red stem varieties available on the market today. The majority of red stem varieties are small or medium varieties, making them ideal for pots. 
With varieties such as 'Red Cadet', 'One Man's Treasure' and 'Harry van de Laar' the red stems are a very key feature with the leaves being rather plain. Hosta 'Red Cadet' is a red stem sport of 'Blue Cadet', a very fast growing and reliable variety. It has waxy blue leaves that are complimented by the beautiful purple red stems. (Below, top 'Red Cadet', bottom left 'One Man's Treasure', bottom right 'Harry van de Laar').
Some varieties have the benefit of interesting foliage and red stems, with some of our favourites being 'Paradise Island', 'Raspberry Sundae' and 'Cherry Berry' among others. 'Paradise Island' has bright yellow gold leaves, a thin green margin and red stems. The yellow and red combination is show stopping. Another similar variety is 'Designer Genes'.
'Raspberry Sundae' is almost certainly up there with our favourite varieties. It's leaves have pure white centres and a green margins. The red stem come up all the way to the base of the leaf. It's only down side is that it is rather slow growing, but well worth the wait we would say.
'Cherry Berry' is a lovely little hosta and a great variety for beginners. Easy to grow and stunning to look at with cream white leaves and a green margins. Its red stems are also accompanied by red flower spikes which are truly eye catching. (Below, top 'Raspberry Sundae', bottom left 'Fire Island', bottom right 'Cherry Berry').
 With more and more red stem varieties being made available each year, they with only get better. It is certainly one of our aspirations to discover and release red stem varieties of our own, watch this space!
Leave a comment