Tardiana Varieties, Why Are They So Popular?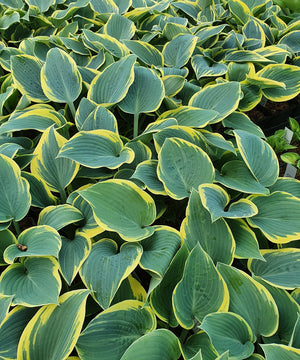 Although everyone has different favourites, the undisputed champion when it come to hostas has to be the Tardiana group. If you're not familiar with this group, it includes varieties such as 'Justine', 'June' and 'Devon Green'. It is hard to find a hosta collection that doesn't include at least a handful of these beauties. So why are they so popular? Here are just a few things that make them the best.
Slug resistance
Now, we're not saying that Tardiana varieties are slug proof, but they generally show more resistance to slugs than most other hostas. Varieties like 'Devon Green' are always a good option if you have an issue with slugs. The Tardiana varieties have thick and often waxy leaves, helping to make them a tougher and less attractive meal to slug and snails. 
Easy to grow
A lot of the plants in this group are ones that we would point customers to if they are new to hostas or need something that isn't too tricky to grow. Varieties like 'Dinner Jacket', 'First Frost' and 'Halcyon' are all excellent if you want an easy, hassle free addition to the garden.
Amazing range of colours
Tardiana varieties generally have a distinctive shaped leaf and are almost always medium in size. The differences between varieties is usually the colour variations. The Tardiana group has such a range of colours, from solid blues such as 'Hadspen Blue', solid yellows such as 'Early Times', to stunning variegated varieties like 'June Fever' and 'Apple Candy'.
Here are some of our favourite Tardiana varieties.
In order - 'Good Times', 'Ben Vernooij', 'Stand By Me', 'Ivory Queen', 'Devon Green', 'Orange Star', 'Dinner Jacket' and 'El Nino'.
Leave a comment