Vigorous Growing Hosta Varieties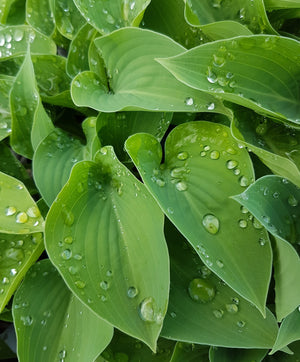 Growing a garden is a labour of love that in most cases can take several years. Hostas can make an instant impact and save a lot of waiting time if you select the right varieties. With the thousands of hosta varieties available today, their characteristics can vary immensely and if you select a slow growing varieties you could be wait a few years before you get the finished look you have been dreaming of.
A lot of the time slower growing varieties can be some of the best aesthetically, such as 'War Paint' and 'Raspberry Sundae', so waiting such a long time for a large specimen can be well worth it. For those who don't want to wait and would like to fill a space quickly there are some great options. 
Many of the 'Tiara' hostas are extremely vigorous and easy to grow, they make excellent ground cover around some of your larger and slower growing specimens. 'Grand Tiara', 'Diamond Tiara' and 'Golden Tiara' are all examples that are quick, colourful and easy to grow.
(Hosta 'Grand Tiara')
 There are some varieties that grow so quickly that you may find yourself giving divisions away every year without ever reducing the size of the main clump. 'Blue Cadet', 'Lemon Lime' and 'Hydon Sunset' are fast growers that you can always give away to friends. 
(Hosta 'Hydon Sunset')
Growing giant hostas is always a good way to make a big impact in any garden. Despite being giants, many can be slow growing and its worth checking before you decide what variety you want if you are hoping to fill are large space quickly. 
As mentioned before, 'War Paint' is not particularly fast growing and can take some years before you have a good sized clump. Other slow growing giants include 'Devon Giant', 'Climax' and 'Fran Godfrey'.
For fast growing larger hostas you have varieties such as 'Krossa Regal', 'Christmas Tree' and 'Prince of Wales'. Very reliable and good looking plants, they make filling a space in a bed or pot very quick and cost effective.
(Hosta 'Christmas Tree')
Growing a combination of these varieties would create a fast growing, colourful instant collection. For more information about vigorous growing hostas please feel free to Contact Us.
Leave a comment