Why Grow Hostas?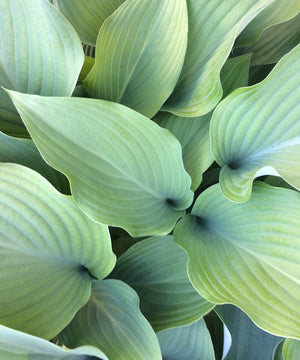 With all the weird and wonderful plants available on the market today, sometimes you really need to narrow down what you really love to make the most of the space you have in your garden. There are so many reasons that hostas very often make it into those list. 
1. They are fully hardy.
As spectacular as some plants on the market are, it is very often the case that they are not fully hardy and require bringing inside, or protecting over the Winter period. This can be a real pain if you haven't got space to bring plants in or you forget and they succumb to the cold. Hostas are wonderful in the way that they can help give your garden a more tropical feel in the Spring and Summer, but then die back for dormancy in the Autumn and Winter at the times you would rather not be in the garden. Hostas are hardy down to well over -20 degrees Celsius. 
2. There is such a huge range of colours, shapes and sizes. 
Hostas are one of the most diverse genus' and there seems to be one to fit almost any garden from large country estates to tiny city balconies. The largest hostas can reach around 2m in diameter, whereas some of the smallest may only get to 15-20cm wide. The colours range from dark greens and blues, to bright yellows and even reds.  
3. Excellent for shade
Some may see a shade garden as a downside, with hostas this is very much a positive. There's almost always a shady dark spot in any garden and it's sometimes hard to find the right plants to fill it and bring it to life, hostas do just that!
Leave a comment