Growing Giants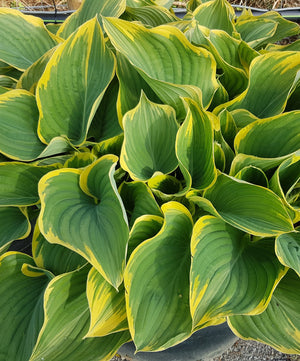 At Sienna Hosta we love growing giant hostas! It's true, they take up a lot of space but they can be real show stoppers and a definite talking point in any garden.
Growing Giants
It's really important when growing giant hostas that you check there maximum size so you know where they would be best placed in the garden. Be sure not to plant too close to trees to allow the roots plenty of room. There are new giant and large varieties each and every year ranging from the more traditional greens and blues to the unique and colourful. Each variety grows very differently and will all vary how long they take to reach their maximum size. We are always happy to give you advice on which varieties we find are better growers and recommend ones to suit the position you would like to fill.
Many people think when growing giant hostas you cannot grow them in pots. As explained in our Growing Hostas In Pots article, this is not the case. Giant hostas can be as happy in a pot as miniature hostas are, you just need to make sure the pot is a size that is suitable for the variety. Our hosta 'Sum and Substance' has been in the same pot for the best part of 20 years and it looks better and better each year.
Our Favourites
The great thing about hostas is that with such a huge selection, you can always find one that is just right for you. We do have a few favourites that we can't help loving a little more however.
Empress Wu
Hosta 'Empress Wu' is widely considered one of the biggest hostas ever, it really is a true giant! A traditional looking variety with blue green leaves, 'Empress Wu' can reach up to 2m across and 1.2m in height. It has a purple flower that usually appears around late June or early July. 
War Paint
Hosta 'War Paint' is very special, it's large leaves have yellow white centres with a green margin. The edges of the leaves are piecrust. Later in the season War Paint starts to turn a darker green in the centre. A slow growing variety, but an established specimen is a priceless showpiece to the garden.
Sagae
An older variety that is the origin of many wonderful sports such as 'Clifford's Forest Fire' and 'Liberty'. 'Sagae' has huge green leaves with a bright yellow gold margin. The flowers are lavender coloured. A very strong grower and beautiful plant. As seen on many of our displays, including at RHS Chelsea Flower Show.
No matter what variety you choose for your garden, giant hostas can always make a statement. To see what giants we currently have available on the website please click here.
Leave a comment